RIP Chuck Lindberg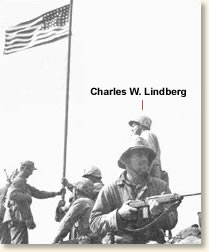 Chuck Lindberg,
the last man alive who raised the first flag on Mount Suribachi on Iwo Jima.
Lindberg manned a flamethrower. My favorite army men were the flamethrowers as a kid. I used to make huge battle scenes on the gravel driveway with the hoses when I was a kid. They often included fireworks.
My Grandfather, Rex, was in the Pacific theater in WWII. He wasn't in Iwo, but he was on a couple of other islands. He didn't talk about it that much. The big thing he said is that he never wanted to be further than 100 yards away from a clean drink of water and a shower again. I was very young when he first told me that and I asked him about what he did when he drove here from California. I was too young to understand what he meant and took him too literally.