Kitchen K Monday Night
I got a call from Pablo last week. He was putting together nights where a celebrity hosts a night at Kitchen K. I used to work for Pablo for a long time. I learned a lot from that man. He knows my folks really well. My Father the referee still has blood stained on his shirt from Pablo's gushing nose. He is proud of that stain and made sure that the dry cleaner did not take out that blotch.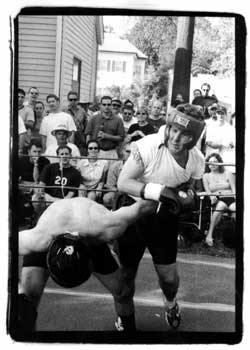 So apparently I am important enough to be considered to host a night at the Kitchen K for their 4th anniversary. Fun. I am going to have some Subcontinentals made special there that night. 20% of the proceeds from the dinner is going to go to the
Cabrini Sports Program
. I will write a bit more about those teams. They are kids in the neighborhood.
So if you are so inclined, especially if you were running around the old Side Door. Those were some wonderful days.
Monday night,
Kitchen K
6-10pm. Dowtown, 10th and Washington.
(photo by
Bob Reuter
. I am sure he has some for sale if you are interested.)